Say Hello to the #YachtSquad
Global Adventures happen a few times each year. John and Eryn rally an awesome crew, travel the world, charter an incredible sailing catamaran, and explore the best waters on this fascinating planet. Curious about our next destination or joining the squad? Contact us for more details.
HOW IT WORKS
It starts with a desire. A desire to experience a new place or to check something off the bucket list. A desire to explore and fall in love with another amazing place on our planet. Whether sunbathing off the coast of Turkey, scuba diving through the warm, sun-speckled reefs of Australia or enjoying chilled rosé and phenomenal music on the rooftops of Ibiza, Neverland Global follows desire.
Research
Once we decide where we want to go or what we want to do, Neverland Global starts to build a trip around it. We spend countless hours researching everything from events and yachts to weather patterns and anchorages. All of this information is then compiled and wrapped up in an awesome guide to be published online and sent to interested participants.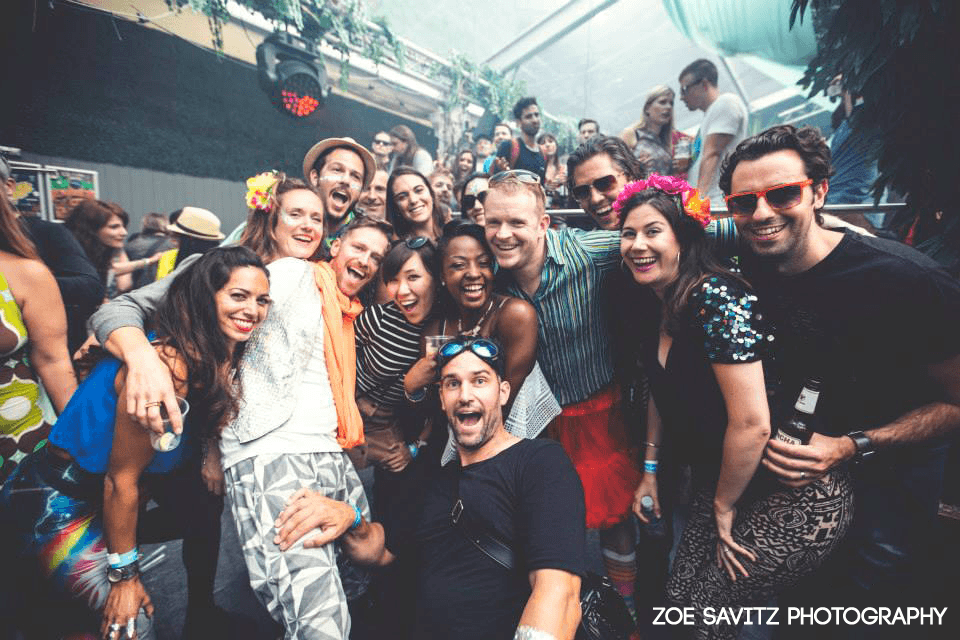 Recruitment
After research and networking comes recruitment. We launch the trip with an announcement including sailing dates, yacht and destination information. To date we've never had an unsold cabin and each journey has created many new lasting friendships among our participants—if not reunions! Those who are interested can contact us for more information and that awesome guide we mentioned earlier.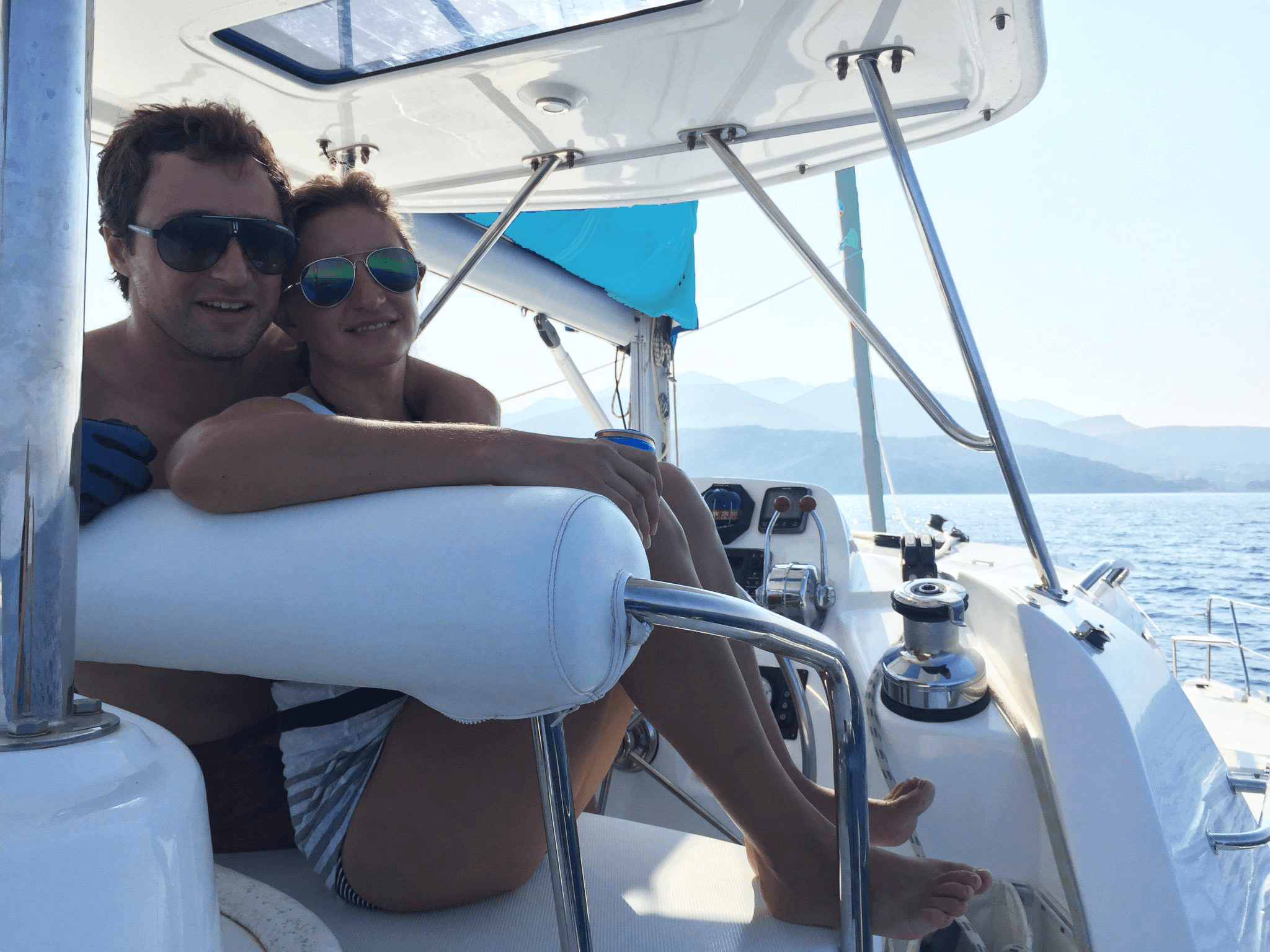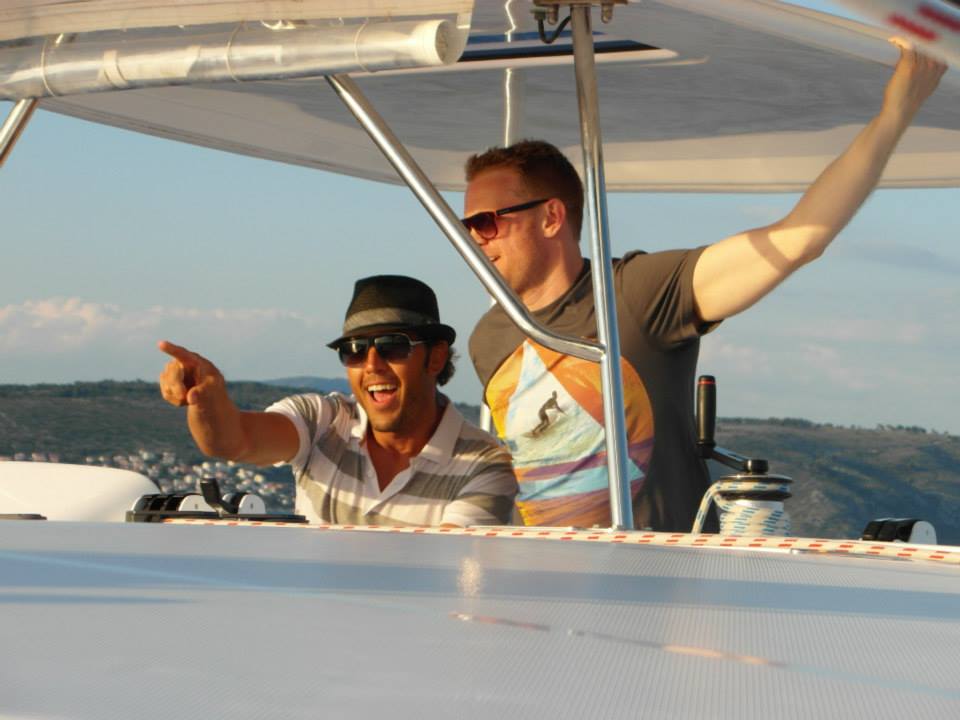 Check the Network
Before launching Neverland Global, we've spent our lives traveling and exploring and have been so fortunate to build friendships with adventurous travelers all over the world. Now we can't wait to share our passion for sailing! We love to connect with people when planning to visit their neck of the woods, and soak in their local knowledge to discover a few juicy sights off the beaten path.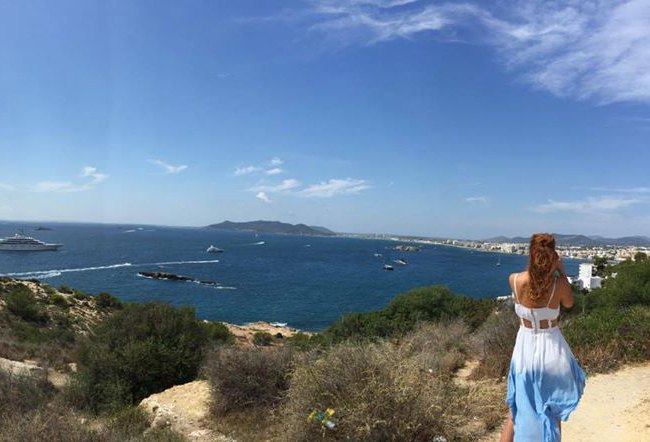 Get Social
Interested participants are added to a private Facebook group which we set up for that trip. From there, everyone can meet each other and become co-conspirators in planning our adventures. By the time we get on board, everyone's already a friend.
2017-18 ADVENTURES
2017 was an amazing year and we're just getting started! Please check our Facebook for more details and the events in 2018 and beyond.
Naples and Amalfi, Italy
Neverland Cruises kicks off its 2017 global adventures with a trip to Naples and a week of sailing around Italy's famed Amalfi Coast and the island of Capri. Our catamaran for this trip is a 2012 Lagoon 450 with four ensuite double cabins, two single forepeak berths, and room for 8-10 people.
June 10 – June 17
Neverland Cruises kicks off its 2017 global adventures with a trip to Naples and a week of sailing around Italy's famed Amalfi Coast and the island of Capri. Our catamaran for this trip is a 2012 Lagoon 450 with four ensuite double cabins, two single forepeak berths, and room for 8-10 people.
Deemed by Unesco to be an outstanding example of a Mediterranean landscape, the Amalfi Coast is a beguiling combination of great beauty and gripping drama: coastal mountains plunge into the sea in a stunning vertical scene of precipitous crags, picturesque towns and lush forests.
Capri's fabled beauty and hedonism has charmed Roman emperors, Russian revolutionaries and Hollywood stars for decades. It's the perfect microcosm of Mediterranean appeal – a smooth cocktail of chichi piazzas and cool cafes, Roman ruins and rugged seascapes.
Virgin Islands Closing Season
We are so excited to finally have the opportunity to host our amazing Yacht Squad for an adventure on board SV Neverland! We'll spend a week exploring the magical Virgin Islands, and celebrating the end of SV Neverland's first charter season before we haul her out of the water for storage during hurricane season.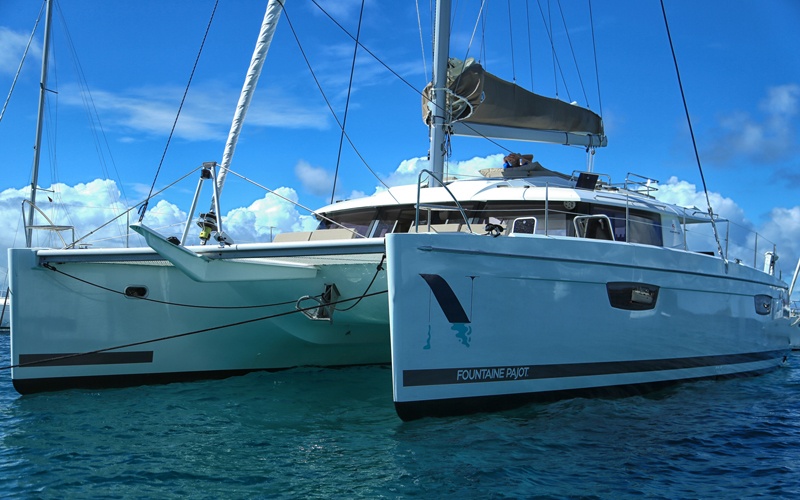 July 30 – August 6
Our friends and crew Captain Marcus and Chef Risa will be joining us for this trip on more casual terms than their customary full-on charter, and they'll share in crew and hosting duties with John and Eryn.
Rates for this trip will include a more pampered experience, most meals, and all alcohol on board. When you arrive, Neverland will be fully stocked with your preferred meals, snacks, beer, wine and liquor.
Neverland can comfortably sleep ten; we have space remaining for six guests in three spacious queen cabins. Each has an en suite bathroom with separate shower, a foam-topped cooling mattress, individual AC units, two fans and dimmable indirect lighting.
Tahiti and Bora Bora
Our final Global Adventure of the year will be our most ambitious and exotic to date. On the crystal clear waters in French Polynesia we will spend a week cruising the islands, exploring stunning inlets, hiking, scuba diving and snorkeling colorful coral reefs, and taking in the vast beauty of this idyllic place.
December 23 - 30
For the first time we will have not one, but TWO amazing catamarans for our adventure: a 2017 Bali 4.5 and a 2016 Leopard 44. Each yacht has four cabins with ensuite bathrooms and can comfortably accommodate eight guests. You can expect some spirited races as we make passages between the islands!
At the end of the week, many of the Yacht Squad will spend a few days exploring Tahiti and celebrating a magical New Year's Eve together.
Captain John
Hey There!
I grew up in the suburbs of Chicago, where in grade school I consistently scored my lowest marks in a behavioral category they called "self control"—and this will come as no surprise to anybody who knows me! My life has always been a reflection of my passionate pursuit of all things which satisfy my deepest cravings and curiosities for connection, fun, adventure, and exploration. My frequent comparison to "Peter Pan" is a playful badge I wear with great pride—work less, play more! Although my playful desires have evolved and expanded over the years—from backpacking across the wilderness of the western United States, to dance music festivals and events, to Burning Man, and now sailing around the world—I've always cherished the opportunities to plan events which bring together friends from all over to join in whatever shenanigans we create. Neverland represents the next stage of bringing together all of my passions and spending more of my life doing what I LOVE!
I first learned to sail at scout camp in the lakes of Florida. After a 20 year hiatus from sailing, I convinced our hotel staff in Thailand to let me take out one of their beach catamarans for an unsupervised day sail, but only after grand exaggeration of my sailing experience convinced them that I knew what I was doing (I didn't). A few hours of playing with the sails and racing up and down the coast of Phuket was all it took—sailing was something I simply had to learn more about and craft the next phase of my life around. I was hooked!
After two weeks of sailing school in the Virgin Islands, my third week of sailing was in Croatia where I had bareboat chartered a catamaran for a week and filled it with adventurous (and very trusting!) friends. We sailed, we dove in underwater caves, we scaled rock walls and cliff dived, we drug anchors and flipped dinghies, we cooked great feasts and had floating dance parties under the moonlight in our own private coves, we had epic bike rides along the coast and toured wineries in convertibles, and we reveled in the wonder of it all! Since that incredible and memorable virgin voyage, I've been organizing sailing adventures all over the world, and I'm so excited to continue building this company and this dream with the most incredible partner I could have ever hoped for. Eryn and I can't wait to share our fun with you!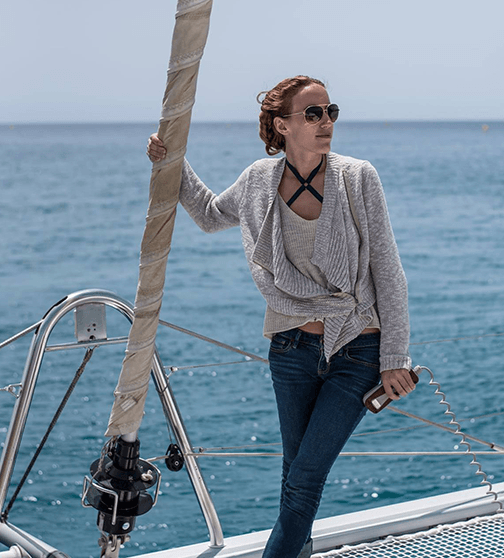 Admiral Eryn
Hey There!
I'm so glad you meandered your way through the deep and mysterious layers of the internet to find our site. My name is Eryn and I'm the Admiral of this ridiculousness. John likes to joke that he's in charge of the boat—and I'm in charge of everything. (While I don't know about all that!) I do know we make a great team - and you have to admit, Admiral Eryn has a pretty cool ring to it. I've loved boats and being on the water for as long as I can remember.
My summers growing up revolved around tubing on Lake Michigan behind my grandfather's bowrider and playing King of the Hill with my cousins on a makeshift island of floating rafts. When my grandparents decided they were done with winter and moved to Florida, my parents followed suit and we left Chicago to keep playing on the boat stay close to family.
In high school and college I stayed close to the water, playing in the gulf and nearly breaking bones during what would eventually be called the "Triple Tube Carnage Summer" of 2014.
My first sailing experience was a day out in the gulf on a small sweet monohull. It was winter and chilly but the thrill of riding the wind took hold of me and hasn't let go. 
Quickly after meeting John, we took our first big trip to sail around Turkey and that's when our adventures together really began. 
We Met
Just at that perfect moment in our lives when our stars had aligned over so serendipitously. One fantastic date at a Japanese restaurant in Denver was all it took to ignite the spark. As we rode around the city on Eryn's scooter on our way to after-dinner drinks, John asked if she would join him and some friends the very next day on a road trip in their Burning Man "art bus" to Further Future, a start-up music and arts festival in the desert near Las Vegas. His friends thought he was crazy for bringing some random girl he had JUST MET. Eryn loved that John was so open to bringing some girl he had JUST MET.
After several weeks, we moved in together. A few weeks later we moved to Europe for the summer. After getting engaged a year later, we moved back to Europe and have lived in Amsterdam for the past two years. In December of 2017 we were married alongside friends and our OG Yacht Squad on the stunning island of Bora Bora. We love our crazy, adventure-filled, fast-paced lifestyle and can't wait for whatever comes next!
We Invested
In a new Fountaine-Pajot Saba 50 sailing catamaran, which will be based in the Virgin Islands. Our fantastic crew Marcus and Sara will offer all-inclusive charters beginning in the fall of 2016.
We Create
A couple of sailing trips per year, all around the world. Each adventure is completely unique and based on the interests of our group and the amazing location we'll be exploring together. Past trips have included Croatia's Dalmatian coast, Australia's Whitsunday Islands, Turkey, the Bahamas, Ibiza for the 2016 opening parties, Italy along the Amalfi coast, and most recently the society islands in French Polynesia.
We're Planning
To transition to a full-time global cruising lifestyle. In a few years, we'll be finishing the rat race to move aboard SV Neverland and begin offering worldwide sailing adventures all year long. We have big dreams, ambitious routes, and we plan to connect with friends—old and new—as we slowly sail our way around this fascinating planet.
CONTACT
Feel free to contact us below for more information, questions or ideas. If you're interested in booking a charter on SV Neverland in the Virgin Islands, please use the contact form on the book page.