NEVERLAND CRUISES
a sailing catamaran charter and adventure company
SV NEVERLAND
is our 2016 Fontaine-Pajot Saba 50 sailing catamaran. Based in the Virgin Islands, Neverland offers fully customizable charters for up to eight guests—including gourmet meals and drinks, exciting water sports, relaxation spaces galore and daily adventures in paradise. Our fantastic crew, Captain Marcus and First Mate & Head Chef Sara, will delight our guests with their hospitality and knowledge of all the Virgin Islands have to offer.
THE VIRGIN ISLANDS
are every bit of the paradise you imagine—providing consistently warm weather, ridiculously white sands and a rum-infused taste of West Indian culture. Neverland's crew call the islands home and know the locations of all the hidden gems and much-loved sights. We value collaboration and flexibility over strict schedules and cookie-cutter plans, and we can't wait to hear what our guests want to experience so we can help build a holiday tailored to their desires.
You can't buy happiness, but you can buy a vacation on a yacht. So that's kind of the same thing.
DISCOVER
GLOBAL ADVENTURES
happen a few times each year. John and Eryn rally an awesome crew, travel the world, charter an incredible sailing catamaran, and explore the best waters on this fascinating planet. Together we'll create fantastical experiences as unique as our guests.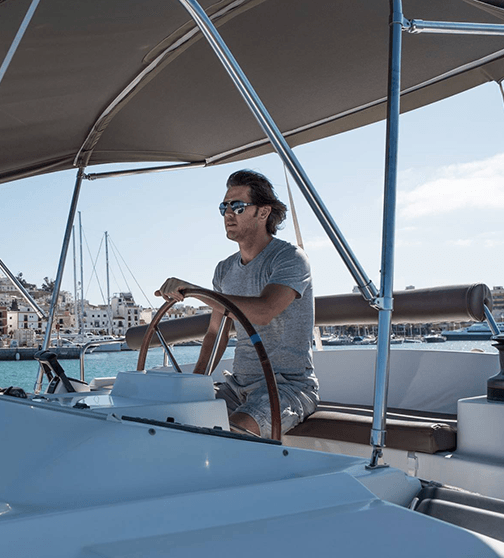 Captain John
Hey There!
I grew up in the suburbs of Chicago, where in grade school I consistently scored my lowest marks in a behavioral category they called "self control"—and this will come as no surprise to anybody who knows me! My life has always been a reflection of my passionate pursuit of all things which satisfy my deepest cravings and curiosities for connection, fun, adventure, and exploration. My frequent comparison to "Peter Pan" is a playful badge I wear with great pride—work less, play more! Although my playful desires have evolved and expanded over the years—from backpacking across the wilderness of the western United States, to dance music festivals and events, to Burning Man, and now sailing around the world—I've always cherished the opportunities to plan events which bring together friends from all over to join in whatever shenanigans we create. Neverland represents the next stage of bringing together all of my passions and spending more of my life doing what I LOVE!
I first learned to sail at scout camp in the lakes of Florida. After a 20 year hiatus from sailing, I convinced our hotel staff in Thailand to let me take out one of their beach catamarans for an unsupervised day sail, but only after grand exaggeration of my sailing experience convinced them that I knew what I was doing (I didn't). A few hours of playing with the sails and racing up and down the coast of Phuket was all it took—sailing was something I simply had to learn more about and craft the next phase of my life around. I was hooked!
After two weeks of sailing school in the Virgin Islands, my third week of sailing was in Croatia where I had bareboat chartered a catamaran for a week and filled it with adventurous (and very trusting!) friends. We sailed, we dove in underwater caves, we scaled rock walls and cliff dived, we drug anchors and flipped dinghies, we cooked great feasts and had floating dance parties under the moonlight in our own private coves, we had epic bike rides along the coast and toured wineries in convertibles, and we reveled in the wonder of it all! Since that incredible and memorable virgin voyage, I've been organizing sailing adventures all over the world, and I'm so excited to continue building this company and this dream with the most incredible partner I could have ever hoped for. Eryn and I can't wait to share our fun with you!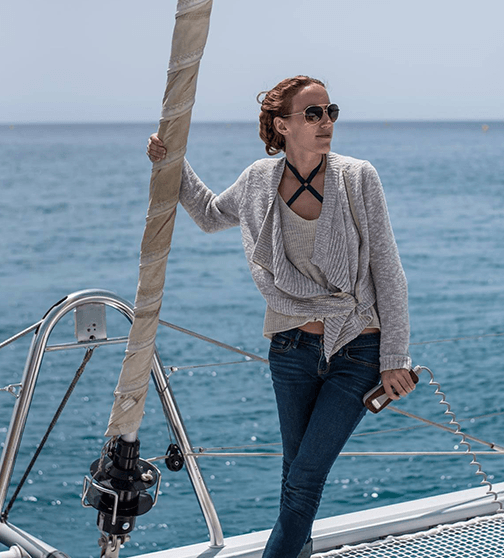 Admiral Eryn
Hey There!
My name is Eryn and I'm the Admiral of this adventure. John likes to joke that he's in charge of the boat—and I'm in charge of everything. (While I don't know about all that!) I do know we make a great team - and you have to admit, Admiral Eryn has a pretty cool ring to it. I've loved boats and being on the water for as long as I can remember. My summers growing up revolved around tubing on Lake Michigan behind my grandfather's bowrider and playing King of the Hill with my cousins on a makeshift island of floating rafts. When my grandparents decided they were done with winter and moved to Florida, my parents followed suit and we left Chicago to keep playing on the boat stay close to family.
Always a motor-girl, my first sailing experience didn't occur until winter of 2014. I immediately fell in love with the movement and quiet nature of sailing. Since the inception of Neverland Cruises, John and I have hosted trips in Turkey, Spain, Italy, Thailand, French Polynesia and the Virgin Islands.
I have a passion for healthy, fresh food with a twist of comfort. I love taking cooking classes every new place we travel, most recently Thailand and Cambodia. My current favorite meals are maple-glazed salmon, or spicy papaya salad, and my famous cinnamon green smoothie.
I recently attained my RYT-200 yoga teaching certification on the lush island of Koh Samui, Thailand. I love to flow through dynamic vinyasa-style sequences and end in deep soothing yin poses that will leave you floating through the rest of your day. Whether I'm teaching yoga on Neverland, up in the mountains of Colorado, or somewhere in-between, my most heartfelt desire in teaching is to spark a little of that magic waiting patiently within us all. 
This adventure is challenging, fascinating, awe-inspiring and absolutely once-in-a-lifetime. I wake up every morning excited about what's coming next, and no matter what we're doing or who we're with, I aspire to carry that excitement everywhere we go.
We Met
Just at that perfect moment in our lives when our stars had aligned over so serendipitously. One fantastic date at a Japanese restaurant in Denver was all it took to ignite the spark. As we rode around the city on Eryn's scooter on our way to after-dinner drinks, John asked if she would join him and some friends the very next day on a road trip in their Burning Man "art bus" to Further Future, a start-up music and arts festival in the desert near Las Vegas. His friends thought he was crazy for bringing some random girl he had JUST MET. Eryn loved that John was so open to bringing some girl he had JUST MET.
After several weeks, we moved in together. A few weeks later we moved to Europe for the summer. After getting engaged a year later, we moved back to Europe and have lived in Amsterdam for the past two years. In December of 2017 we were married alongside friends and our OG Yacht Squad on the stunning island of Bora Bora. We love our crazy, adventure-filled, fast-paced lifestyle and can't wait for whatever comes next!
We Invested
In a new Fountaine-Pajot Saba 50 sailing catamaran, which will be based in the Virgin Islands. Our fantastic crew Marcus and Sara will offer all-inclusive charters beginning in the fall of 2016.
We Create
A couple of sailing trips per year, all around the world. Each adventure is completely unique and based on the interests of our group and the amazing location we'll be exploring together. Past trips have included Croatia's Dalmatian coast, Australia's Whitsunday Islands, Turkey, the Bahamas, Ibiza for the 2016 opening parties, Italy along the Amalfi coast, and most recently the society islands in French Polynesia.
We're Planning
To transition to a full-time global cruising lifestyle. In a few years, we'll be finishing the rat race to move aboard SV Neverland and begin offering worldwide sailing adventures all year long. We have big dreams, ambitious routes, and we plan to connect with friends—old and new—as we slowly sail our way around this fascinating planet.
CONTACT
Feel free to contact us below for more information, questions or ideas. If you're interested in booking a charter on SV Neverland in the Virgin Islands, please use the contact form on the book page.