Grenada
"It's not called the Spice Island for nothing – you really can smell the nutmeg in the air on Grenada. And it could be called the Fruit Island for the luscious bounty growing in the green hills. Then again, it could be called the Beach Island for the plethora of idyllic sandy strands. We could go on…" – Lonely Planet
Recently titled "Best Kept Secret of the Caribbean" by Vogue, Grenada is in the West Indies at the southern end of the Grenadines island chain. The country consists of the island of Grenada itself plus six smaller islands which lie to the north of the main island. From waterfall hikes and underwater parks to luxury spas and five-star restaurants, the Spice Isle is a true traveler's paradise.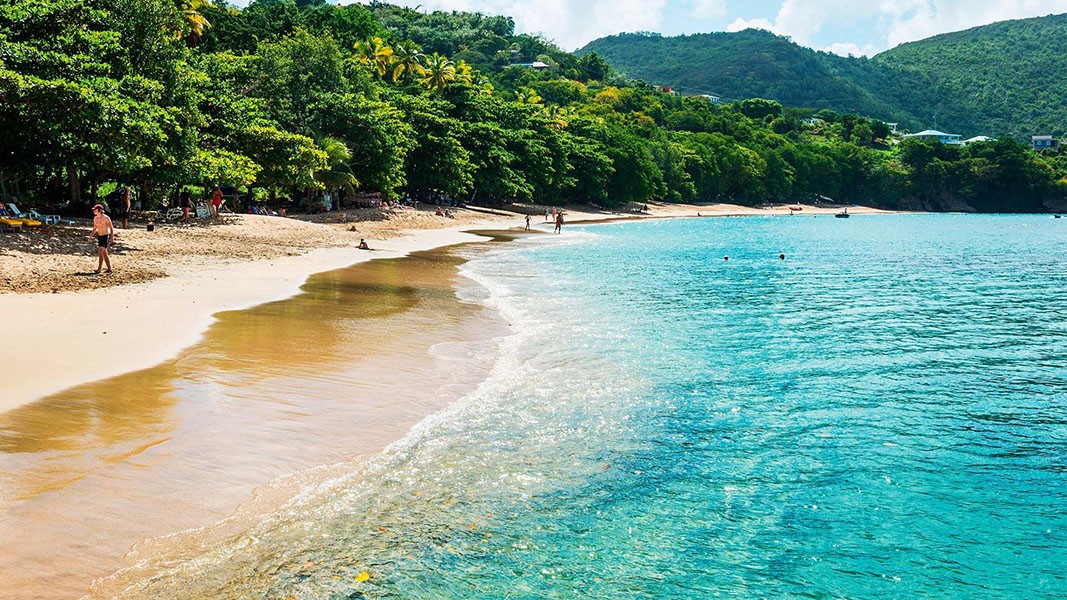 Mustique
Since the days the late Princess Margret fled the scrutiny and responsibilities of Buckingham Palace to this free-spirited corner of the planet, Mustique has been a top destination for those looking to escape. These days, musicians like Mick Jagger, the Duke and Duchess of Cambridge, and all sorts in between find their way to the tiny isle.
Even with all the glamour, Mustique is surprisingly low-key. Still privately owned, there are very few accommodations. Those who do find their way here spend their days scuba diving, horseback riding, paddle boarding, golfing, and relaxing in the spa. By night you'll keep an eye out for rockstars while sipping cocktails at the waterfront lounges.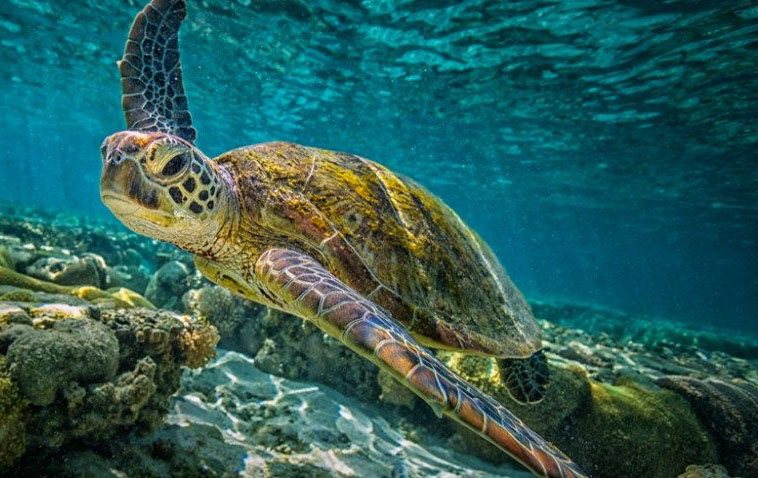 Carriacou
Carriacou is called the "Land of Reefs" for its extensive coral and clear shallow water, but it could easily hold the title of "Land of Music" or "Land of Culture". Home to the largest carnival festival on the islands, as well an annual famous string band music festival, Carriacou loves to dance, sing, and live in the vibrant spirit that is unique to the Caribbean.
In addition to the coral and culture, Carriacou's rich history is on display on the pristine beaches where boats are still built using methods developed in the 1800s. The museum, housed in an old cotton mill, shows exhibits illuminating the island's African, French and British history.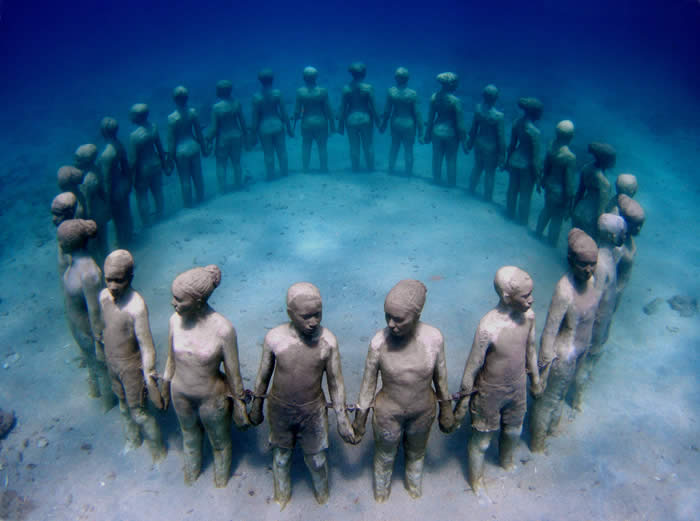 Bequia
The most visited of the Grenadines and rightly so, beautiful Bequia is the quintessential slow-paced Caribbean island that really does have it all. Bequia offers plenty of attractions for nature lovers from land to sea.
There are spectacular drift dives along the leeward side of the north of the island, while the remote hilly north of the island affords ample opportunity for forest exploration and breathtaking views.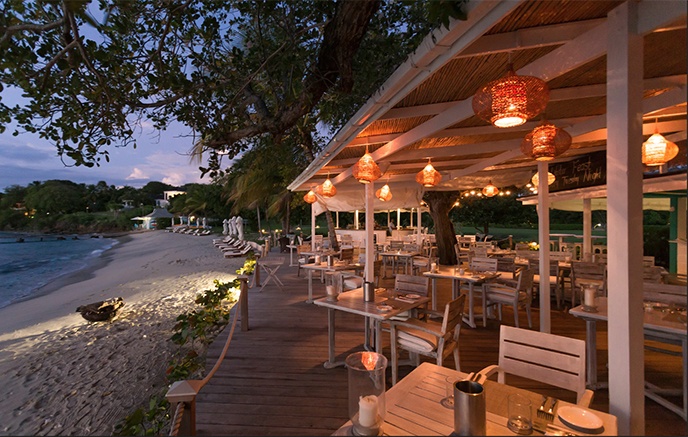 Tobago Cays
"Uninhabited and protected as a marine park, the gorgeous Tobago Cays are the highlight of any trip to the Grenadines. Surrounded by an impressive barrier reef, they offer some of the best snorkeling and diving in all of the Caribbean with warm, shallow waters filled with hard corals that are alive with marine life, including a thriving population of marine turtles." – Lonely Planet
Thanks to the lack of development and remote location, Tobago Cays rarely feels overrun. Made up of five small islands you could easily spend a day (or three) splashing through the calm, turquoise water exploring the vivid coral and making friends with the curious sea life.
Breakfast
Everyday Fresh Continental
breakfast pastries, toast, yogurt, muesli, fresh-cut fruit, smoothies, juice & coffee
Smashed Avocado Toast
eggs, tomato & pesto
Shakshuka
a classic North African and Middle Eastern dish made of eggs poached in a sauce of tomatoes, chili peppers, garlic, and spices
Overnight Oats
vanilla yogurt, berries, granola, flaxseed & cinnamon
Benedict Bar
147° F sous vide eggs with choice of extras & hollandaise
Chia Seed Pudding
fresh fruit, cinnamon & muesli
Tomato & Asparagus Frittata
fontina & side of melon
Fluffy American Pancakes
cinnamon butter, fruit & thick-cut bacon
Mexico City
spiced black beans & cheese folded into a toasted tortilla and topped with eggs, salsa & avocado
Vikasa Yogurt & Muesli
inspired by a dish at a yoga resort in Thailand. Coconut yogurt, honey, granola, slivered almonds, golden raisins, pineapple & pumpkin seeds
Lunch
Caribbean Jerk Chicken
pineapple black bean salsa
Thai Spicy Papaya Salad
grilled prawns & muddled chiles
S.H.A.G. Panini
smoked ham, apple & gouda with summer salad
Mango, Avocado & Crab Stacked Salads
corn chowder & fresh rolls
Tuna Poke Bowl
steamed jasmine rice, avocado, edamame & wasabi-cilantro dressing
Burrata Caprese Stacks & Chilled Gazpacho
with French baguette
Toasted Tuna Salad Sandwich
pepper, tomato, onion & spices
Dinner
Prosciutto & Maple Salmon
crispy lemon & parmesan brussels sprouts
Taco Night
vegetarian spiced black beans & classic seasoned ground beef
Seared Sesame-Crusted Tuna
wasabi cauliflower mash & grilled asparagus
Honey Sriracha Chicken
garlic butter smashed potatoes
Salmon Burger
avocado salsa & cilantro lime rice
DIY Sushi Night
learn to make Maki, Tamaki & Nigiri
Pan-Seared Scallops
chorizo, serrano & grilled corn salsa
Pasta Night
robust pepper marinara or hearty bolognese sauce
B.Y.O.Bab
skewers of marinated chicken, sausage, or seafood with onions, peppers & corn
Appetizers
Micro Caprese Salad
Melon, Prosciutto & Mozzarella Skewers
Goat Cheese & Marinara Dip
Spicy Lime Avocado Soup
Liver Pate, Fresh Fruit & Charcuterie Plate
Tuna & Avocado Wonton Cups
Plum Salad with Black Pepper & Parmesan
Baked Brie, Caramelized Onion & Pepper Jelly
Watermelon Fries, Coconut, Lime & Honey Dip
Spiced Goat Cheese Truffles
Chilled Cauliflower Chowder
Desserts
Mango Sticky Rice
Kahlúa Coffee Brownie Cheesecake
Homemade Lemon & Blueberry Sorbet
Gourmet S'mores
Cinnamon & Spice Gelato
Ginger Crème Brûlée
Strawberry Brownie Skewers
Chocolate-dipped Chewy Coconut Cookies
Neverland Libations
Watermelon & Lime Slushies
Cucumber, Ginger, Mint Aqua Fresca
Tropical Pineapple Coconut Fizz
Spicy Grapefruit Margarita
Pineapple Mint Prosecco Punch
Frosé All Day
Pineapple Coconut Mojito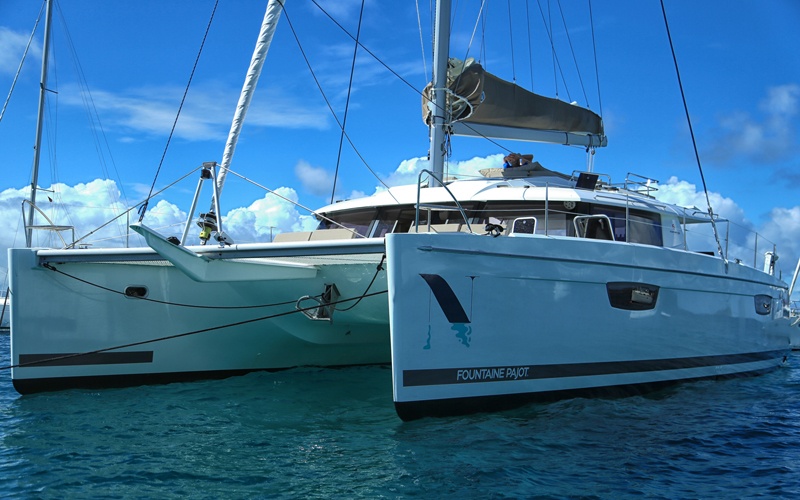 Amenities & Comfort
6 zone air conditioning
2 fans in each cabin
Ensuite bathrooms w/ separate shower stalls
Electric toilets with fresh water flush
Queen island beds, linens, and cooling gel memory foam mattress toppers
Extra wide ocean-view windows w/ shades
US electrical sockets w/ USB throughout cabins and salon
4-zone audio system throughout interior and exterior
Beverage refrigerator & icemaker in cockpit
Flat-screen Smart TV w/ USB, HDMI, Bluetooth, and our library of movies and tv shows
BBQ grill
Upper deck lounge w/ sunbeds and sofa for at least eight guests
Adjustable loungers on foredeck lounge, couch, and trampoline
Extra-long sofa aft of cockpit
10 person alfresco dining table in cockpit
Contemporary furnishings throughout
Natural body wash, shampoo, conditioner, and sunblock
Toys & Water Sports
AB Oceanus 13 VST w/ Yamaha 60 hp engine
GoPro underwater camera and video
2-person tube
2 Lamzac air loungers
Subwing Honeycomb Shark (experience the sensation of underwater flight!)
3x stand-up paddleboards
6-person floating raft mat
Floating water loungers
2 hanging over-water chairs
Snorkel gear – masks, snorkels & fins for all sizes
Fishing gear & tackle
Hot and cold deck shower
Gear & Gadgets
2 x 75 hp Volvo Penta engines w/ Brunton autoprops
88 lb Rocna anchor w/ 300' 3/8" G4 high-test chain
AB Oceanus 13 VST RIB w/ console, 7 person capacity & Yamaha
60 hp outboard engine
13.5 kW Cummins Onan 120v/60hz generator
480 watts solar
3 kW Magnum hybrid inverter charger
1,200 AH AGM house battery bank
40 gal/hr fresh water maker
2 x Bluefin LED Hammerhead H16 underwater lights
1,000 watt, 4 zone Fusion and JL Audio entertainment system throughout interior and exterior, including 2 x 10" subwoofers
Raymarine eS-127 chartplotter, autopilot, and navigation instruments
Raymarine Ray60 VHF w/ 2nd station mic at helm
Standard Horizon HX870 floating handheld VHF w/ GPS & DSC
Vespar XB-8000 AIS transceiver w/ wifi
ACR GlobalFix V4 EPIRB
Delorme inReach Explorer GPS & satellite messenger
WiriePro 3G/4G/LTE & wifi amplifier and router, plus 6dBI booster antenna
Medic first aid kit
All required USCG safety equipment for guests and crew
CREW
We're a couple of swashbuckling goofballs currently traveling the world and hosting sailing adventures on catamarans in beautiful destinations.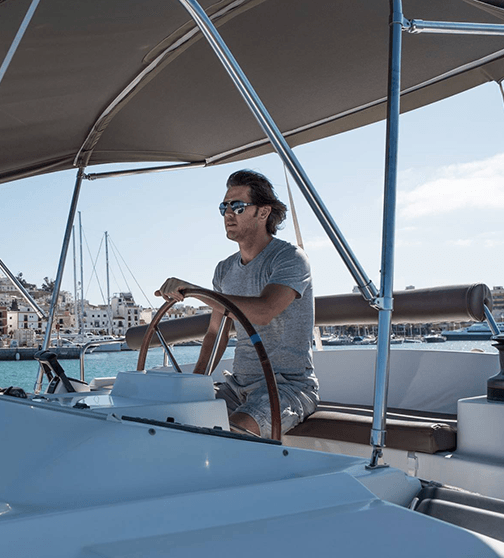 John - Captain & Scuba Instructor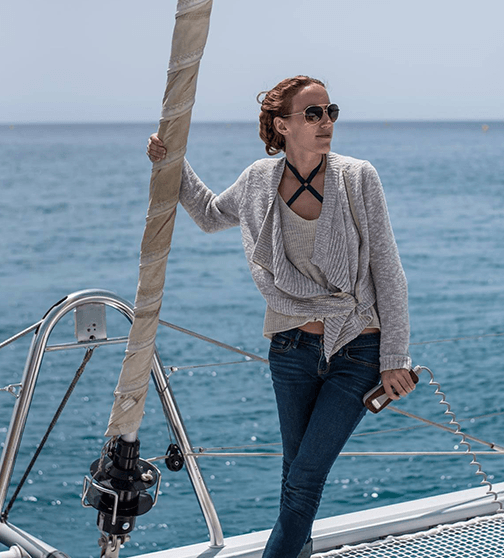 Eryn - First Mate, Yogini & Chef
John's Bio
My name is John and I'll be your captain on this adventure.
All my life I've craved adventurous exploration of this incredible planet that we call home—my curiosity is endless! After "adulting" for more than 20 years and spending way too much time behind a desk, I'm thrilled to finally be able to escape to Neverland.
I've been sailing for almost 10 years in many of the world's most iconic sailing destinations, including Australia, French Polynesia, and all over the Mediterranean, Caribbean, and Andaman Seas. After completing sailing school in the Virgin Islands, my first official week as a skipper was in Croatia where I had chartered a catamaran and filled it with adventurous (and very trusting!) friends. We sailed, dove underwater caves, scaled rock walls, and cliff dived. We cooked great feasts and had floating dance parties under the moonlight in secluded coves. We had epic bike rides along the coast and toured wineries in convertibles. More than anything we simply reveled in the wonder of it all! Since that incredible and memorable maiden voyage, I've been organizing sailing adventures all over the world.
Scuba diving and exploring under the sea is another passion of mine, and as a PADI Open Water Scuba Instructor I'd love to help others learn to enjoy the magical underwater world that awaits! Neverland will be seeing some major upgrades to enable us to independently visit and dive some of the world's most remote and unspoiled locations.
I'm so excited for the next phase of this company and this dream with the most incredible partner I could have ever hoped for. Eryn and I can't wait to share our adventurous fun with you!
Eryn's Bio
I've loved boats and being on the water for as long as I can remember. My summers growing up revolved around tubing on Lake Michigan behind my grandfather's bowrider and playing King of the Hill with my cousins on a makeshift island of floating rafts. When my grandparents decided they were done with winter and moved to Florida, my parents followed suit and we left Chicago to keep playing on the boat stay close to family.
Always a motor-girl, my first sailing experience didn't occur until the winter of 2014. I immediately fell in love with the movement and quiet nature of sailing. Since the inception of Neverland Cruises, John and I have hosted trips in Turkey, Spain, Italy, Thailand, French Polynesia, and the Virgin Islands.
I have a passion for healthy, fresh food with a twist of comfort. I love taking cooking classes every new place we travel, most recently Thailand and Cambodia. My current favorite meals are maple-glazed salmon, or spicy papaya salad, and my famous cinnamon green smoothie.
I recently attained my RYT-200 yoga teaching certification on the lush island of Koh Samui, Thailand. I love to flow through dynamic vinyasa-style sequences and end in deep soothing yin poses that will leave you floating through the rest of your day. Whether I'm teaching yoga on Neverland, up in the mountains of Colorado, or somewhere in-between, my most heartfelt desire in teaching is to spark a little of that magic waiting patiently within us all.
This adventure is challenging, fascinating, awe-inspiring and absolutely once-in-a-lifetime. I wake up every morning excited about what's coming next, and no matter what we're doing or who we're with, I aspire to carry that excitement everywhere we go.
RATES
Neverland is offered as an all-inclusive charter.
Weekly rates include all meals and snacks aboard, a full bar of alcoholic drinks, use of all of our water toys and yacht amenities, and complete assistance with your customizable itinerary.
ACCOMMODATIONS
Accommodations include use of the following:
3 queen cabins, each with private ensuite bath with electric toilet, wash basin and separate shower stall. All cabins have ample storage, a panormic window, air conditioning, two fans, 110v outlets and dimmable recessed lighting.

Social areas include an upper deck lounge with sectional couch and sunbed area with 306 degree view. Forward deck has spacious lounge area with adjustable reclining seating, trampoline and sunning areas. Aft deck offers lounge area plus alfresco dining. Salon offers lounge area with coffee table plus flat screen TV with many movies and USB capabilities.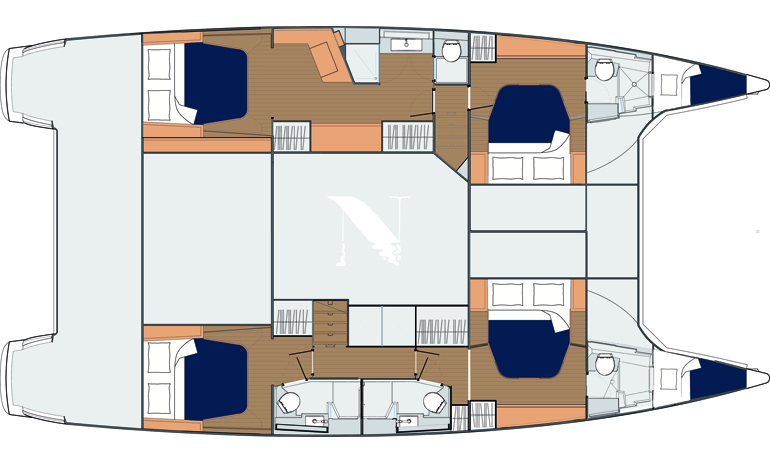 CONTACT
Feel free to contact us below for more information, questions or ideas. If you're interested in booking a charter on SV Neverland in the Virgin Islands, please use the contact form on the book page.